My niece (who turned 4 on Tuesday) and mother are visiting for the week, for what is essentially a weeklong birthday party for the two girls ("identical cousins", though they look a little less alike as they get older than they did last year). They arrived last night, and today was an adventure in limitations. The morning had present-opening and breakfast, where we discovered that Cousin Bean found omlettes too adventurous and didn't eat. (She didn't eat dinner last night, either). We only had one errand planned for the day, which was convenient since we don't have a car that fits all five of us (my car won't fit a third carseat between E and J). We took the bus to the party store, but had some trouble getting back because the girls were tired, thirsty (we totally forgot to bring water, despite everyone involved being typically in the habit of carrying reusable water bottles) and hot. (We *really* didn't take the weather change into account.) We *did* have both girls in the Tinkerbell costumes that were birthday gifts from Bean's mommy, complete with fairy wings (but without the kiddy high-heels, we insisted they wear real shoes) which got us a *lot* of big smiles around the city.
We ended up at Wendy's, after I carried E piggyback with J asleep in the wrap. Water and Frosties perked everyone up, and we managed to catch a bus home and get the girls into the little pool in the backyard. Meanwhile, I discovered that it's hard to get dinner ready and bake a cake with a newborn who is hungry and wants to be held *all the time*. Thank God for babywearing, or I have no idea how I would ever get anything done. In fact, I suspect at 6 weeks postpartum with E, I *didn't* get anything done. What a difference necessity makes, I suppose, and an easy birth.
Anyway, after several false starts at dinner, Mom made an awesome salad and the grownups had rice and veggie burgers and salad while E ate her requested "Girl Ravioli" (which come in star and car and rocketship and teddy bear shapes). Bean fell asleep while we were making dinner, and appears to be set to sleep right through the night, poor thing. I managed to make a cake from the Hershey's Recipe Collection cookbook (which I have had for ages but never used before) which turned out delicious: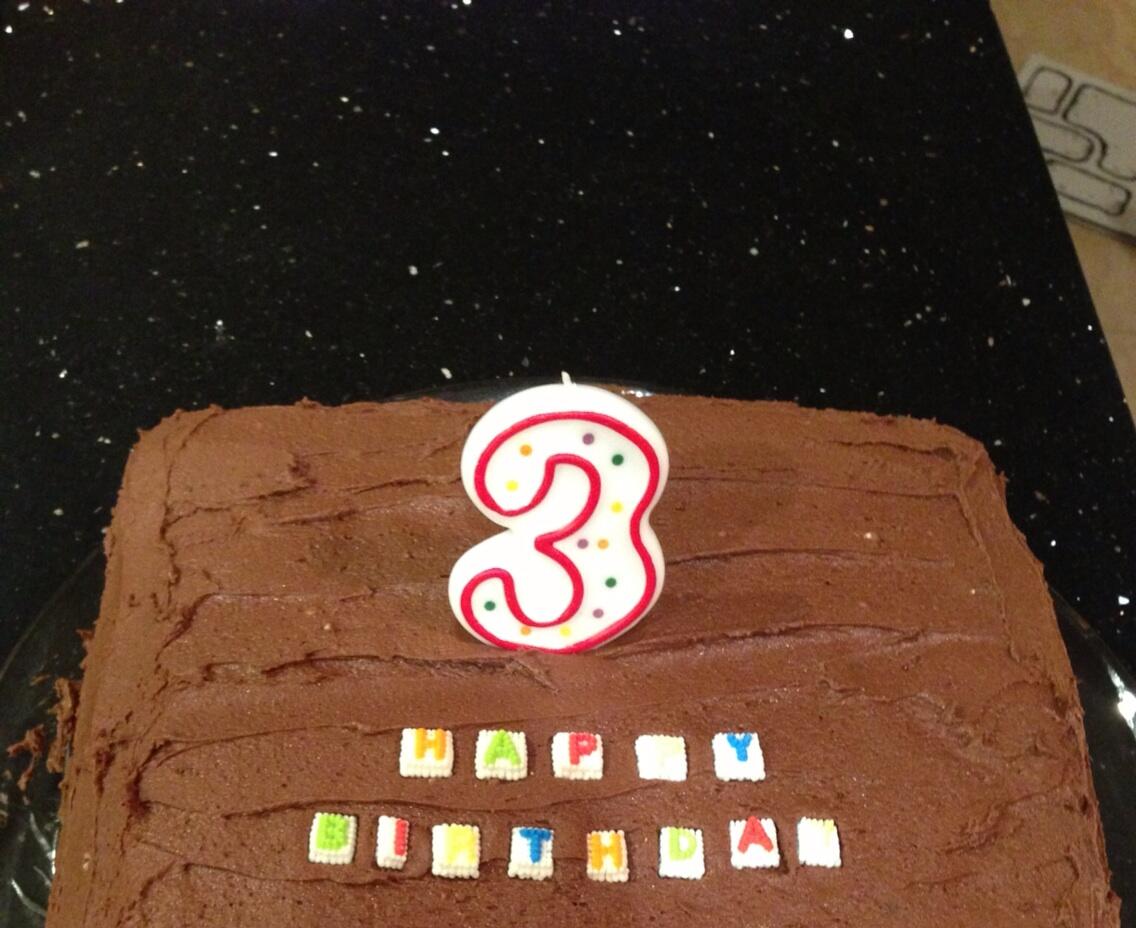 After dinner, E got to watch Cinderella for the first time. Cinderella is her favorite princess, and we are *seriously* into princesses. Then there was cake, and singing and a candle, which are the Essential Birthday Things according to E. So it was a successful birthday, all the children are asleep, and I think I will go be too.
My little girl is three! Wow, that went fast.

Biographies, interesting histories also welcome!
I need some new fiction. What do you recommend?

I'd like to sing, but it's an afternoon concert and I need someone to watch Emi.
Can any of you watch Emi for a couple hours? It's Tuesday, 21 Dec, 2:45pm-ish to 5:45pm-ish
My chorus is doing a concert for the Horizon Center for Homeless Children, for their holiday dinner.
Masterworks Chorale
is a month away---and I'd love if some of you could come! It's Friday evening, November 5, at 8 PM at the Saunders Theatre at Harvard. It's a gorgeous hall, and the program is Handel's "Alexander's Feast".(1) We have the Treble Chorus of New England (a children's chorus) singing with us for part of the program, which should be fun, and I have been promised that the soloists are excellent.
I get a $3 discount on tickets, making them $17, $27 or $39.(2) You can also buy subscriptions for two or all three of this season's concerts at the
webpage
Let me know if you'd like to come(3)! It's going to be a great concert!
(1)If you're not familiar with "Alexander's Feast", and I wasn't, Handel wrote it a few years before the Messiah... and it shows. Lots of very Messiah-like passages, but shorter.
wikipedia
says "The work describes a banquet held by Alexander the Great and his mistress Thaïs in the captured Persian city of Persepolis, during which the musician Timotheus sings and plays his lyre, arousing various moods in Alexander until he is finally incited to burn the city down in revenge for his dead Greek soldiers." but it is also an ode to
Saint Cecelia
, the patroness saint of musicians.
(2) I have PDFs of which seats are which prices, if you are interested, but in general the orchestra and mezzanine, and the first 3 rows in the three center sections of the balcony are the expensive tickets, the edges of the mezzanine and most of the balcony are $27 tickets, and the obstructed view and far-edge seats are the cheap ones.
(3)Also let me know if you can recommend a babysitter for that Friday night... I doubt Emi is up for a concert that starts at her bedtime.
My first concert with the
Current Mood:

excited
13:58 @SaraJoElice It was totally a fluke---last night was back to the 4-2-2 pattern again. But at least it taught me to go to bed when she does. #
15:38 @stashknitrepeat thanks for the reminder: I want to bake bread tonight! We've been out for a week because it has been so hot. #
Automatically shipped by
LoudTwitter


05:18 Baby slept for 8 hours straight. Guess we tired her out yesterday? #


Automatically shipped by
LoudTwitter


19:28 I did not know that grocery shopping alone could be such a luxury. Glad to come home to my awesome family, too. #lovemylife #


Automatically shipped by
LoudTwitter